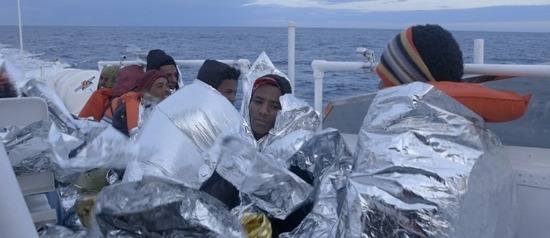 Screening & Live Event
Lampedusa in Winter (Lampedusa im Winter)
With cinematographer Serafin Spitzer in person
Presented by the Austrian Cultural Forum New York
New York premiere. Austria. Dir. Jakob Brossmann. 2015, 93 mins. In Arabic, English, Italian, and Tigrinya with English subtitles. For thousands of refugees from Africa and the Middle East, the tiny Mediterranean island of Lampedusa is their gateway to Europe. This sensitively observed documentary is a snapshot of the island during winter, long after the summer tourists have left its picture postcard-perfect beaches. With eye-opening candor, it captures the struggles of not only the migrants who risk their lives to reach the island's shores, but of the local residents who have found themselves on the frontlines of a humanitarian crisis.

Tickets: $12 (Free for members at the Film Lover and MoMI Kids Premium levels and above). Order tickets online. (Members may contact [email protected] with any questions regarding online reservations.)

Ticket purchase may be applied toward same-day admission to the Museum (see gallery hours). View the Museum's ticketing policy here. For more information on membership and to join online, visit our membership page.