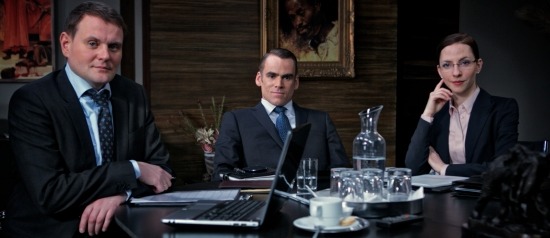 SCREENING
Age of Cannibals
Presented by the Goethe-Institut New York

At Bohemian National Hall, 321 East 73rd Street, between 1st and 2nd Avenues. Visit new-york.czechcentres.cz for more information.

Germany. Dir. Johannes Naber. 2014, 93 mins. With Sebastian Blomberg, Devid Striesow, Katharina Schüttler. Corporate greed runs amok in this scorching satire of capitalism at its dirtiest. Set exclusively within the claustrophobic confines of luxury hotel rooms—with only a vaguely defined cityscape outside the windows to suggest a wider world—Age of Cannibals follows two business consultants whose sole objective is to make more money for their international clients. But when they're passed over for a promotion and assigned a new, no-nonsense female partner, the men wind up headed for a breakdown of epic proportions. Propelled by tour-de-force performances, this ultra-dark comedy goes deliriously off the rails as it exposes the dehumanizing effects of the corporate rat race. The film won multiple German Film Critics Awards, including Best Feature Film, among others.
Tickets for Panorama Europe at the Bohemian National Hall are free. Seating is on a first-come, first-served basis.