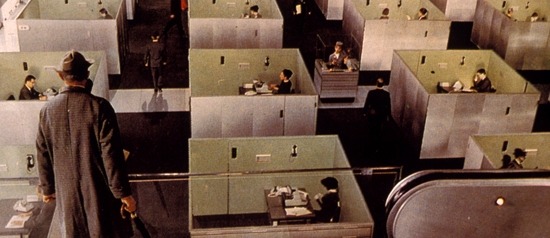 SCREENING
Playtime
Dir. Jacques Tati. 1967, 115 mins. 35mm. With Jacques Tati, Barbara Dennek, Rita Maiden. Jacques Tati's artistic ambitions knew no bounds—for this bank-breaking comic masterpiece, he built Tativille, a sprawling set that was virtually an entire city. The iconic M. Hulot arrives in this ultramodern metropolis and stumbles through its many architectural absurdities. Play Time is wall-to-wall with brilliantly choreographed jokes and astonishing compositions; Tati crams so many sight gags into each 1.85:1 frame that they're impossible to catch on the small screen.
Tickets: $12 ($9 for senior citizens and students / free for members at the Film Lover level and above). Order tickets online. (Members may also email [email protected])
All tickets include same-day admission to the Museum (see gallery hours). View the Museum's ticketing policy here. For more information on membership and to join online, visit our membership page.