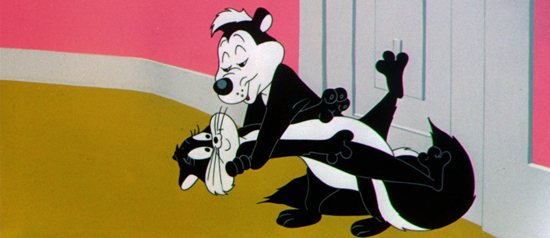 SCREENING
For Scent-imental Reasons and other cartoons
To accompany the exhibition What's Up, Doc? The Animation Art of Chuck Jones, the Museum will present matinees of cartoons directed by Jones, many presented in archival 35mm prints from The Academy Film Archive and the Chuck Jones Center for Creativity.

Hair-Raising Hare (1946)
For Scent-imental Reasons (1949)
Duck Dodgers in the 24 1/2th Century (1953)
From A to Z-Z-Z-Z (1954)
Broom-Stick Bunny (1956)
Ali Baba Bunny (1957)
Robin Hood Daffy (1958)
Gee Whiz-z-z (1956)

Program running time: 56 mins
All 35mm prints in this program are courtesy of the Chuck Jones Center for Creativity
Free with Museum admission on a first-come, first-served basis. Museum members may reserve tickets in advance. View the Museum's ticketing policy here. For more information on membership and to join online, visit our membership page.