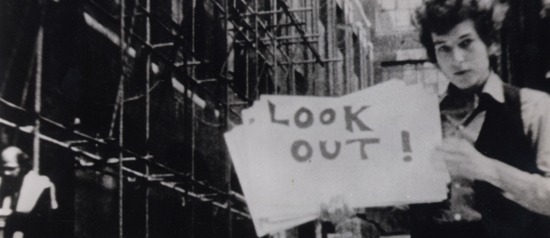 Screening & Live Event
Bob Dylan in Don't Look Back, with "Daybreak Express"
With D.A. Pennebaker in person

Dir. D.A. Pennebaker. 1967, 96 mins. Digital projection. With Bob Dylan, Albert Grossman, Bob Neuwirth. D.A Pennebaker's landmark cinéma vérité film captures Bob Dylan's 1965 UK concert tour. In hotel rooms and concert halls, at interviews, and on the road, Pennebaker follows Dylan and his cohorts from one unforgettable moment to the next. Glimpses of Dylan reveal a man by turns confrontational and sullen, arrogant and insecure, flippant and serious—but most of all, deeply charismatic and profoundly talented. Don't Look Back is a portrait of a rock icon and the tumultuous period that he helped define. Preceded by Daybreak Express, Pennebaker's five-minute 1953 debut film, shot on the 3rd Avenue elevated subway and set to a Duke Ellington song—a proto-music video. The screening will be followed by a discussion with D.A. Pennebaker.

​​​​Free with Museum admission on a first-come, first-served basis. Museum members may reserve tickets in advance by calling 718 777 6800. For more information about becoming a Museum member and to join online, please click here.