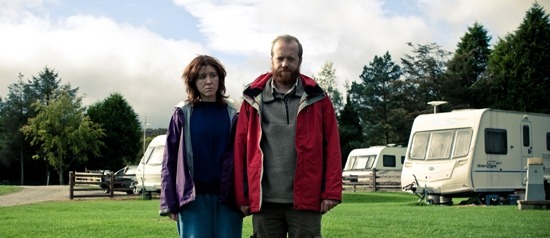 PREVIEW SCREENING
Sightseers
Friday, May 3, 2013, 7:00 p.m.
U.K. Dir. Ben Wheatley. 2012, 98 mins. DCP courtesy of IFC Films. With Alice Lowe, Steve Oram. A pair of sad-sack lovers turns into a frumpy Bonnie and Clyde as their romantic getaway to the English countryside becomes a bloody killing spree, in this gleefully gory laugh riot from the director of Kill List. When introverted dog-lover Tina (Alice Lowe) meets would-be author Chris (Steve Oram), she dreams of an escape from her sheltered life and suffocating mother, packing an RV, and setting out on the open road. It does not take long for their dream of a quiet romantic getaway to fade, as rude tourists, noisy teens, and crowded campsites conspire to shatter their peace. (Toronto Film Festival) According to The Hollywood Reporter, this "very British blend of quirky character-comedy and homicidal violence has all the makings of a midnight-movie cult classic."
Tickets: $15 public / $9 Museum members / Free for Silver Screen members and above. ​Order online or call 718 777 6800 to reserve tickets. For more information about becoming a Museum member and to join online, please click here.