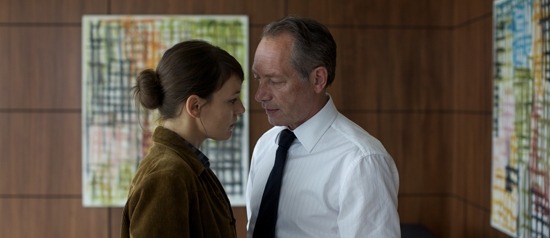 Screening
The City Below (Unter dir die Stadt)
Part of First Look
Sunday, January 15, 2012, 5:00 p.m.
New York premiere
Germany. Dir. Christoph Hochhäusler. 2010, 105 mins. With Robert Hunger-Bühler, Mark Waschke, Nicolette Krebitz. Boardroom and bedroom intrigue collide in this sleek, provocative drama by Hochhäusler, who also directed the final installment of the widely acclaimed Dreileben trilogy. As an adulterous triangle forms among an up-and-coming banker, his beautiful young wife, and his predatory boss, Hochhäusler orchestrates a zombified ritual of seduction and repulsion, both carnal and financial. The City Below peers into the glass canyons of global capital and finds not just the malfeasance of today's headlines but a deeper sense of existential unease and, in the stunning conclusion, even a glimpse of the apocalypse.

Free with Museum admission. A First Look series pass, allowing the holder admission to the Museum and all First Look screenings for the run of the series, is available for $40. Order online or call 718 777 6800.