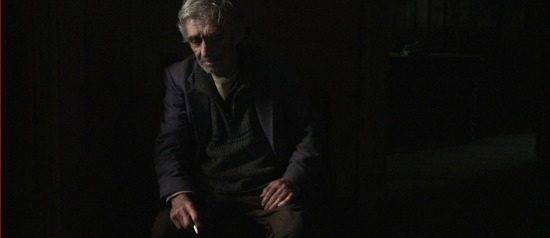 Screening
Ocaso
Part of First Look
Saturday, January 14, 2012, 2:30 p.m.
New York premiere
Chile/Dominican Republic. Dir. Théo Court. 2010, 80 mins. Court's feature debut follows an old man's last days as caretaker of a decaying farmhouse estate in Chile, and documents the decline of a way of life. A remarkable example of hybrid storytelling, the film shows the man completing his grueling daily routine on what may be his final day of work, as workmen and machines arrive to begin renovations on the house. A series of still shots depicts the timeless continuity of his labor and his integration with these verdant surroundings—the camera's work with light through the heavy thicket is both gorgeous and oppressive. The future is bitterly uncertain, but the film ends on a note of nostalgic contemplation.
Preceded by Red Dawn (Alvorada Vermelha)
Portugal. Dir. João Rui Guerra da Mata, João Pedro Rodrigues. 2011, 20 mins. A visit to a Macao, China, wet market reveals a dream state between life and death—and demonstrates, by way of a playful homage to Jane Russell, cinema's resurrectionary power.

Free with Museum admission. A First Look series pass, allowing the holder admission to the Museum and all First Look screenings for the run of the series, is available for $40. Order online or call 718 777 6800.