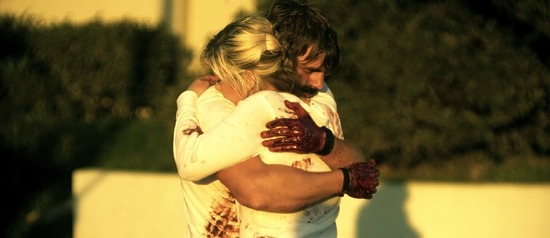 SPECIAL EVENT
Bellflower and Mad Max and a live video call with Evan Glodell
Thursday, August 4, 2011, 7:00 p.m.
A great double-feature film event for a hot summer night: a preview of one of the year's most anticipated indie films and a rare screening of a 35mm print of the original Mad Max. The shockingly violent, darkly romantic indie film Bellflower, a breakout hit of this year's Sundance Film Festival, is about two friends who build Mad Max-inspired flamethrowers and muscle cars to prepare for global apocalypse. One of the friends falls in love with a charismatic woman he encounters, setting off a unique, unforgettable tale of love, hate, betrayal, and extreme violence. As critic James Rocchi described it, Bellflower is "Handmade and heartfelt, intense and darkly gorgeous, with the sunburned intensity of a high-summer fever dream."

This special double-feature event starts with a preview screening of Bellflower (2011, 106 mins. Directed by Evan Glodell. With Glodell, Jessie Wiseman), followed by a live video call conversation with Glodell, who not only wrote, directed, and starred in the movie, but also designed its custom-made camera, which uses vintage parts, and Russian lenses, combined with a digital camera, to create a powerful visual style. After the discussion and a brief intermission, there will be a screening of the original Mad Max (1979, 88 mins. Directed by George Miller. With Mel Gibson), a dystopian vision of the future, with Gibson as a policeman who seeks revenge against the biker gang that killed his family.

Tickets: $15 public / $10 Museum members / Free for Silver Screen members and above. Call 718 777 6800 or order online.




Related Links
Bellflower Official Website
Medusa: the flame-throwing car, Wired
The cars of Mad Max, MadMaxMovies.com