PAST PROGRAMS – 1984
Retrospectives and Other Film Series »
Personal Appearances, Previews, and Other Events »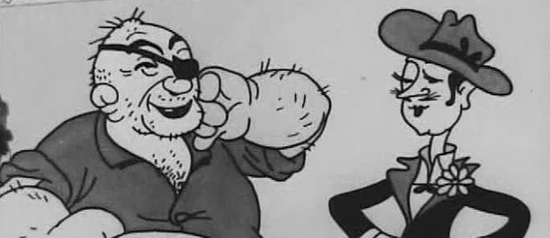 RETROSPECTIVES AND OTHER FILM SERIES
Video/TV: Humor/Comedy
March 9–17, 1984
View details » VIDEO PIONEERS
The Selling of New York
The Best of William Wegman
The Eternal Frame

MUSICAL/COMEDY
Guitar Piece
Ear to the Ground
Songs for Swinging Larvae
Instant This/Instant That
One Minute Movies
Intimate Parade
Art Punks
Scale Flop
Song of the Street of the Singing Chicken
Language Is a Virus
Till Ye Know Me
Giddi-up Travel Agent
Dancing Death Monsters
Eight Days a Week

PARODY: CULTURAL TV STATION
Selections from 13 Changes and Your Radiation
Snuff
Live from Lunds
The Longest Poem in the World
Test Tube
The Dying Swan
Godzilla Ballet
Generic Video Art
Man Ray, Man Ray
Making a Paid Political Statement
The First International Whistling Show
The Leather Weather
Mental Illness
Don't Ask

LIKELY STORIES
Likely Stories
The Weak Bullet
Lure Detour

THE MAGIC BOX
Your Radiation
Life with Video
Secret Horror
Turkey Dinner
Video Rover
Prov. Video Dating Service
Captured Tool
The Real Long Ranger

SHORT TAKES, ONE-LINERS, AND TALKING HEADS
Soho
Empire State
Secrets I'll Never Tell
Admiration
The Role Model
The Cough
The Deviant
Pass Debris
Caught
I Play Real Well
Winners/Losers
Risk
Squark Hooks
Driving
Wit and Its Relationship to the Unconscious

DOCUCOMEDY
Who Shot M.M.?
The Big Apple
Tuesday Morning Bobs
Game of the Week
What Is Business?
Hollywood to Astoria with Hecht and MacArthur
March 23–31, 1984
View details » Crime Without Passion
Gunga Din
Once in a Blue Moon
Barbary Coast
The Scoundrel
Twentieth Century
Soak the Rich
The Front Page

Video in the Gallery
March 23–May 12, 1984
View details » PERFORMANCE
Tongues
Tribute to John Cage

PORTRAITS
Forbidden Rebels
Pick Up Your Feet: The Double Dutch Show

NARRATIVES
My Neighborhood
Son of Oil
Down in the Rec Room

SPACE/TIME
After Montgolfier
Principia
Photographic Memory
Ancient of Days

OTHER CULTURES
Moving Yanomami
Monk Cycle
Meta Mayan

REFLECTIONS
Glass Puzzle
Smothering Dreams

ANTHOLOGY FILM ARCHIVES: VIDEO PRESERVATION
Teepee Videospace Troupe (excerpt)
Pre Proto People Proto Pre-Type (excerpt)
Black Video
Pre Reel #1, CV
Cartoons That Time Forgot: The Van Beuren Studio
April 6–14, 1984
View details » Introduction: The Van Beuren Irregulars
Aesop's Fables and the Early Black-and-Whites
The Odd and the Outrageous
Rainbow Parades and Later Variations
Face to Face: Actresses of the Silent Screen
April 27–May 12, 1984
View details » The Merry Widow
The Scarlet Letter
A Woman of Affairs
Janice Meredith
Our Dancing Daughters
It
Salome
The Magician
Zaza
Forbidden Paradise

PERSONAL APPEARANCES, PREVIEWS, AND OTHER EVENTS
Back to top »
An Evening of International Film
With Silvio Francisco Caiozze Garcia, Mushtaq Gazdar, Dirk Lauwaert, Hernan F. Navas Rivas, NG'oge, Luis Pina, Ami Prijono, Samir Fakhry Seif, Aparna Sen, and Ioan Mircea Veroiu in person
April 4, 1984

International Distribution and Marketing for Independents
Seminar with members of the American Film Marketing Association in person
April 14, 1984

The 11th Annual Student Film Awards
Regional competition
April 24, 1984

Art and Craft: The Process of Production Design
Seminar with Robert Boyle, Stephen Hendrickson, and Patrizia von Brandenstein in person
May 5, 1984