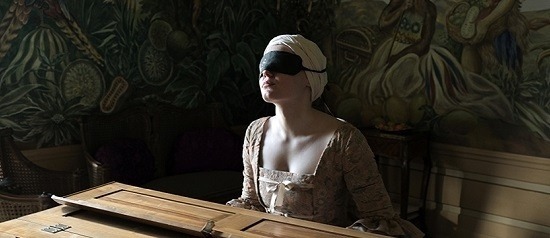 FESTIVAL

Panorama Europe 2019
May 3–19, 2019
The eleventh edition of Panorama Europe, the essential festival of new and vital European cinema, co-presented by Museum of the Moving Image (MoMI) and the members of European Union National Institutes for Culture (EUNIC), includes fiction and documentary works that present a portrait of contemporary Europe during a period of tremendous flux. If there is a unifying thread in the diverse, exciting array of films in this year's selection, it is a focus on the myriad of ways that the pressures and anxieties of modern life filter down into the most intimate aspects of personal identity. While the films tackle such macro subjects as politics, history, labor, and feminism, they do so with stories that focus microscopically on the lives of individuals. A blind piano player who is both shunned and admired by the aristocracy. A husband and labor activist abandoned by his wife. A lawyer whose wife is in a coma and can only find comfort in self-pity. A glamorous actress reflecting on the emotional turmoil of her life. A mother who reappears after mysteriously leaving her family. These are just some of the unforgettable people whose lives are examined in the inventive and accomplished films in Panorama Europe 2019. Though some of the movies are by established directors, many are by first-time and emerging artists, and more than half are directed by women. While the world these films depict may be fraught, the movies are invigorating in their artistry, a testament to the continued vitality of European cinema.
Organized by MoMI Curator-at-Large David Schwartz
Panorama Europe is coordinated by Gaelle Duchemin, European Union Delegation to the United Nations in partnership with the Goethe-Institut and the Czech Center New York/Bohemian National Hall. The 2019 Panorama Europe Film Festival presenting partners are the Arts Council Malta in New York, the Austrian Cultural Forum New York, the Balassi Institute - Hungarian Cultural Center New York, the Consulate General of the Republic of Croatia and the Croatian Audiovisual Centre, the Lithuanian Culture Institute, the Consulate General of Portugal, the Consulate General of Slovakia, the Cultural Services of the French Embassy, the Czech Center New York, the European Union Delegation to the United Nations, Dutch Culture USA, the Goethe-Institut New York, Instituto Cervantes New York, the Italian Cultural Institute, the Consulate General of Greece in New York and Onassis USA, the Polish Cultural Institute New York, the Romanian Cultural Institute, and Wallonie Bruxelles International (WBI).
A
Festival Pass
(good for all MoMI screenings) is available for $50. All films will be shown in their original languages with English subtitles.
Join the conversation online by using
#PanoramaEurope
.

This program is supported by the European Union.