SERIES

IndieCade East
February 15–17, 2013
IndieCade, the country's premier festival for independent video games, was launched in 2010 in California where it was called "the video game industry's Sundance" by The Los Angeles Times. In 2013, the festival makes its East Coast debut in a jam-packed weekend at the Museum with dozens of playable IndieCade Official Selection games; presentations from designers, academics, and journalists including Kris Piotrowski (Superbrothers: Sword & Sworcery EP) and Doug Wilson (J.S. Joust); seminars and workshops for budding game makers led by industry experts; an arcade tournament; a presentation of games made during the festival-long game jam; a night of "big games"; and much more.

Festival passes
Full Festival Pass (includes all events): $80 public / $60 students/seniors/Museum members
Day One (Friday): $15 public / $10 students/seniors/Museum members
Day Two (Saturday, excludes Night Games): $30 public / $20 students/seniors/Museum members
Night Games (Saturday evening): $12 public / $9 students/seniors/Museum members
Day Three (Sunday): $30 public / $20 students/seniors/Museum members
Free admission for Silver Screen members and above. Children ages 13+ and students are eligible for student level passes with valid ID. IndieCade East access for children 3–12 will be included with regular Museum admission ($6). Order online or call 718 777 6800 to reserve tickets.
Information for families visiting IndieCade East. Festival passes include admission to the Museum.


IndieCade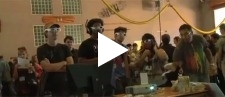 Related
IndieCade East 2014
IndieCade East Game Showcase
IndieCade