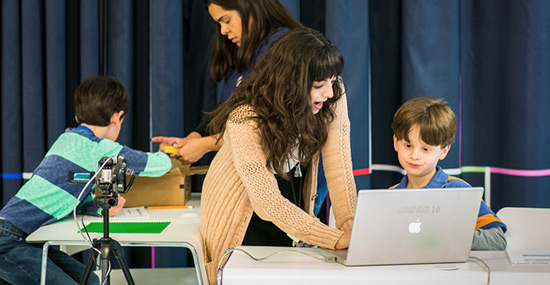 Museum of the Moving Image is a great destination for families. Please consult This Week's Events for full details on current family-friendly programming.
Visiting the Museum
Year-round, families are invited to explore the Museum's hands-on core exhibition Behind the Screen, which features over 1,400 artifacts, from mind-bending optical toys to a real Chewbacca mask from the Star Wars films, as well as an array of interactive experiences in which families can make stop-motion animations, add sound effects and music to famous movie scenes, and star in a personalized flipbook.
Please note: Strollers and backpacks are not permitted in the Museum's galleries; stroller parking is available. Visit Families FAQ for more helpful planning info.
Drop-In Moving Image Studio
Free with Museum admission. Recommended for ages 4+, accompanied by an adult.
The Museum offers drop-in studio sessions on occaisional weekends, free with Museum admission. With the assistance of Museum educators, visitors engage in hands-on creative work, making projects ranging from flipbooks and thaumatropes (hand-drawn optical toys) to stop-motion and computer animations and video games. Studio visitors also have the opportunity to see, handle, and explore the inner workings of moving-image technology, such as projectors, film strips and video tape, video game consoles, and more. Please check This Week's Events to find a session.
School Recess Workshops
The Museum offers special family-friendly matinees and hands-on workshops during winter, mid-winter, and the spring school recesses. School recess workshops are drop-in and free with Museum admission; no pre-registration is required.
Mornings @ MoMI
Join us on the first and last Saturdays of each month for exclusive Museum access for families (before doors open to the general public). Visitors of all ages can explore the exhibitions and participate in art making projects, facilitated by Museum educators with a different theme each month. This program is currently onhold, with plans to return in the Fall of 2022.See the current schedule.
Access Mornings @ MoMI
The Mornings @ MoMI program on the first Saturday of each month includes modifications for children with Autism spectrum disorder and their families, and is hosted by a professional puppeteer. This program is currently onhold, with plans to return in the Winter of 2022.
Family-Friendly Films
Bring the entire family to the Museum for family-friendly film screenings. Family-friendly screenings few times a month and during school recesses.



Family Tours
60 minutes, up to 7 family members, $200 flat rate
This hour-long fun and educational guided tour of the Museum's immersive, interactive core exhibition Behind the Screen or the Jim Henson Exhibition is for family members of all ages. Tours are led by a Museum Educator for groups of up to 7 family members. Family tours are available by reservation during the Museum's public hours. Contact the Education department to book your visit at [email protected].



Family Memberships
Take advantage of our special family memberships which offer unlimited admission to the Museum, reservation privileges, and much more! Click here for details.