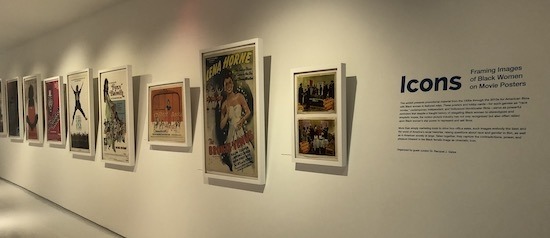 EXHIBITION

Icons: Framing Images of Black Women on Movie Posters
Ongoing
Museum of the Moving Image – Founders Hall
This exhibit presents promotional material from the 1930s through the 2010s for American films with Black women in featured roles. These posters and lobby cards—for such genres as "race movies," contemporary independent, and Hollywood blockbuster films—serve as powerful reminders that despite a fraught history of relegating Black women to stereotypes and simplistic tropes, the motion picture industry has not only recognized but also often relied upon Black women's star power to represent and sell films.

More than simply marketing tools to drive box-office sales, such images embody the best and the worst of America's racial histories, raising questions about race and gender in film, as well as in American society at large. Taken together, they capture the contradictions, power, and pleasure inherent in the Black female image as cinematic icon.
Among the material on view are lobby cards for Straight to Heaven (1939), and posters for Carmen Jones (1956), The Watermelon Woman (1996), and Pariah (2011).
Organized by guest curator Dr. Racquel J. Gates
This is the second installation of this exhibition. It was originally mounted on the Schlosser Media Wall, April 30–September 26, 2021.