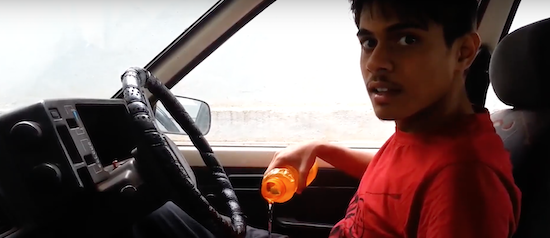 INSTALLATION

The Situation Room
Ongoing
Museum of the Moving Image
Commissioned by the Museum, six artists have each created four original GIFs that will be presented as two-month installations on the walls and ceiling of the visitor elevator, an exhibition environment that offers a unique and intimate encounter with the work. The installation series was organized by independent curator Lindsay Howard who writes:

"When John F. Kennedy created the Situation Room in the White House in 1961, it was because even the highest stations of command struggled to receive and interpret real-time audio, video, and text communications in times of crisis. Today, few of us can say we have trouble receiving information. "The situation" is constantly updated, pinging to our phones, creating a sensation of non-stop crisis. Information abounds, but interpretation falters. So step into the elevator at Museum of the Moving Image, with its eerie quiet and unreliable cell reception. Without a phone for anesthesia, take in new animated GIFs by artists who imagine information and entertainment unfolding in new ways. They offer interpretation for our glut of information. The Situation Room is a year-long series of site-specific installations that play with the relationship between public and private information, disembodied presence, critical engineering, pranksterism, ambiguous identities, and online user culture."
The GIFs will be published on GIPHY to coincide with the opening of each installation.
On view November 5, 2021–January 2, 2022
Eva & Franco Mattes (both b. 1976, Italy)
BEFNOED (By Everyone For No One Every Day) (2021)
Eva & Franco Mattes are an artist duo based in New York. They have continually made work that responds to and dissects our contemporary networked condition, always approaching the ethics and politics of life online with a darkly humorous edge.

On view September 3–October 31, 2021:
Molly Soda (b. 1989, Puerto Rico)
Desktop Dance (2021)
Molly Soda is an artist based in Brooklyn, New York. Nearly all of her work lives online, as she uses a variety of social media platforms to host her work, allowing the work to evolve and interact with the platforms themselves. Soda makes video, .gifs, installations, websites, and video games that touch on concepts around performing the self, memory, aspiration, and consumer culture.
On view July 2–August 29, 2021:
Borna Sammak
(b. 1986, United States)
Untitled
(2021)
Borna Sammak is a New York-based artist who riffs on materials and imagery found in everyday urban life. His work plays with various objects, signs, slogans, and textiles, and imagery from film, TV, and YouTube, and places them into densely layered patterns. With fervent energy and a bit of restlessness, Borna's collages capture the anxiety, humor, and dread of a media-dense culture.
On view April 30–June 27, 2021:
Addie Wagenknecht (b. 1981, United States)
There Are No Girls on the Internet (2020)
Addie Wagenknecht is an American artist based in Austria whose work explores the tension between expression and technology. Blending conceptually-driven painting, sculpture, and installation with the ethos of hacker culture, Wagenknecht constructs spaces between art object and lived experience. As an active leader in the open source hardware movement, she co-founded NORTD Labs, an international research and development collaborative, which produces open source projects that have been used and built by millions worldwide.
On view January 8–March 8, 2020:
Sam Rolfes
LET'S PLAY – Oligarch Dance Sim (GUILT FREE??) (2019)
Sam Rolfes is a New York–based digital performer and director whose practice of improvisational, animated performance within VR game engines crafts diffusive psychosexual narratives with fragments of fanfiction, surreality, and an increasingly anticapitalist focus. He has worked extensively across the avant garde music, fashion, and theater communities, developing music videos, live performances, interactive comedic livestreams, album covers, fashion collections, and games. His work is typically created in real time via motion capture, face capture, and VR puppetry.
On view November 8, 2019–January 5, 2020:
Carlos Alfonzo Sanchez (b. 1992, United States)
lookit (2019)
Carlos Alfonzo Sanchez is an artist and graphic designer based in Queens, New York. His multimedia artworks explore camp, authorship, and self-disclosure within the public/private borders of digital landscapes. Through the collage of CGI imagery and his own bedroom performances in depraved, erratic drag, he interrogates ego and sincerity through uncanny vignettes in the search of new subjectivities for our digital avatars.
Upcoming featured artist:
Ari Melenciano, January 5–March 6, 2022

Organized by Lindsay Howard, independent curator
The Situation Room series is made possible by support from GIPHY Arts.